Gates to start multi-billion-dollar clean tech initiative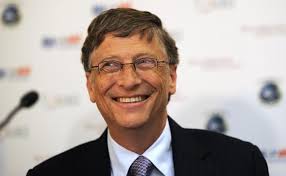 Microsoft co-founder Bill Gates will launch a multi-billion-dollar clean energy research and development initiative with heads of state on Monday, the opening day of the UN climate change summit in Paris, the French government said.
Gates and a group of developing and developed countries will launch the Clean Tech Initiative, in which countries will commit to doubling their clean energy technology research and development budgets by 2020 and private investors will boost their own investments in the sector.
Access to clean energy technology will play a key role in a global agreement to combat climate change. More than 190 countries will negotiate a new pact in Paris from Nov. 30 to Dec. 11 at the 21st UN Conference of the Parties summit.
France, the United States, India, South Korea, Indonesia, Saudi Arabia, Australia, Canada and Norway have said they will join, said a source close to the conference presidency.
ìGates' announcement should prompt other countries to follow suit," the source said.
Gates will join Indian Prime Minister Narendra Modi, US President Barack Obama and French President Francois Hollande to announce the initiative on the opening day of the two-week summit, according to an agenda released Friday.
For India, the world's third largest greenhouse gas emitter, access to clean energy technology is at the core of its national strategy to combat climate change.
India has argued that developed countries need to help poorer countries gain access to renewable energy or zero-emission technologies by helping reduce costs and removing barriers such as intellectual property rights.
On the sidelines of the UN General Assembly in September, Gates attended a bilateral meeting focused on climate change between Hollande and Modi.
The French presidency source said India will be one of the founding beneficiaries of the new initiative.
ìThis is one of the main points of the negotiation: how to improve clean technologies and give the poorest countries access to these technologies," the source said.
This summer Gates pledged $2 billion of his personal wealth over the next five years to "bend the curve" on climate change.
In a blog post in July, he said more breakthrough technologies are needed to combat climate change and that current technologies reduce emissions at a cost that his "beyond astronomical."
He said accelerating government funding for clean energy research and development is crucial to attracting private investment.