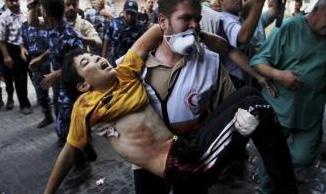 Defying mounting calls for restraint and a UN vote to investigate its deadly offensive in Gaza, Israel pushed on with its air strikes early Thursday, killing at least 18 more mostly civilians and raising the Palestinian death toll to more than 700.
Palestinian emergency services said the latest casualties include a family of six, including two young children, who were killed in an Israeli air strike in the south of the Gaza Strip.
"Six members of the Al-Aftal family, including a five-year-old girl and a boy of three, were killed," said emergency services spokesman Ashraf Al-Qudra, bringing the number killed Thursday to 18.
Israeli forces have also succeeded in destroying at least 475 houses and 2,644 have been partially damaged. Some 46 schools, 56 mosques and seven hospitals had also suffered varying degrees of destruction, say Palestinian officials.
Israel has defended such strikes on civilian sites by saying that Gaza's Hamas rulers hides weapons and fighters there or that tunnels into Israel originate in such places.
However, three-fourths of the Palestinians killed in more than two weeks of Israel-Hamas fighting were civilians, according to UN figures. One in four was a minor, it said.
A Palestinian health official put the death toll at 695 as of Wednesday and said more than 4,100 were wounded, with civilian casualties rising sharply since Israel sent tanks and troops into Gaza last week in its first ground operation in five years.
Israel has not offered its own count, but Lt. Col. Peter Lerner, a military spokesman, said Wednesday that 210 Gaza militants were killed since the ground operation began.
The heavy civilian death toll leaves Israel increasingly vulnerable to accusations that it is using excessive force and possibly committing war crimes — though in Israel, most of the discourse has focused on the rocket attacks.
While most of the rockets have been intercepted and the damage caused has not been great, the furor over them has been powerful among Israelis. Only in recent days has public opinion started to focus more closely on the devastation in Gaza and the question of disproportionality in Israel's actions.