Gaza death toll rises to 309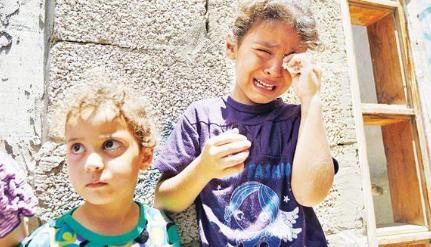 The death toll from Israel's ongoing offensive against the embattled Gaza Strip has risen to 309 since it began on July 7, a Palestinian Health Ministry spokesman said Friday.
"At least 309 people have been killed and around 2268 injured, some seriously, in the Israeli onslaught," Ashraf al-Qodra told Anadolu Agency.
He said the death toll included 74 children and 26 women.
Al-Qodra said three Gazans early on Saturday succumbed to wounds they sustained in Israeli aerial attacks on the southern Gaza Strip city of Khan Yunis late on Friday.
He said a 30-year-old Gazan was killed earlier in artillery shelling eastern the central Gaza Strip city of Deir Al-Balah.
Al-Qodra added that a 34-year-old man was also killed in an aerial strike targeting his home northern the Gaza Strip.
Seven more people were killed when a concentration of Gazans in the southern city of Khan Yunis was shelled, al-Qodra said.
Al-Qodra went on to say that at least 59 Gazans had been killed and over 430 injured across the blockaded Gaza Strip since Israel began ground operations in the coastal enclave on Thursday night.
The latest fatalities involved four people slain in an airstrike by an Israeli drone on Al-Manara neighborhood in eastern Khan Younis, southern Gaza Strip, al-Qodra said.
Eight more Gazans were killed and dozens injured, mostly women and children, in an Israeli aerial attack on the house of Abu Garad family in Beit Hanoun in the north, he said.
Four children, including a two-year-old boy, were killed by Israeli artillery fire in eastern Gaza City, the spokesman said. Four Palestinians were also killed in an Israeli bombardment of northern Rafah town in the south.
Since early last week, Israel has pounded the Gaza Strip, home to some 1.8 million Palestinians, with crippling air and naval bombardments with the ostensible aim of halting rocket fire emanating from the strip.
On Thursday night, Israel began ground operations in the Gaza Strip, in anticipation of which thousands of troops had been called up in recent days.
Israel's military operation, dubbed "Operation Protective Edge," is the self-proclaimed Jewish state's third major offensive against Gaza in the last six years.