Gaza sisters turning heritage into income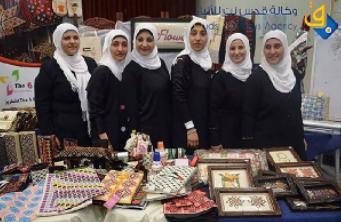 Six Palestinian sisters from the Gaza Strip have taken the art of Palestinian embroidery and turned it into a source of income in spite of the crippling Israeli blockade which is entering its eighth year.
Noor, Nadrin, Budoor, Basma, Aya and Heba are The Six Flowers.
According to an article the The Middle East Monitor, the gifted sisters learned the basics of embroidery while at school, an art that they practiced throughout college and which they used to make gifts for their friends and family.
Budoor told Quds Net: "We wanted to have our own project and, as sisters, we decided to have our own logo that unites us and represent our work at exhibitions and to the public."
Both Noor and Nadrin are university graduates. Noor graduated from the Faculty of Computer Science while Nadrin studied Interior Design at Al-Aqsa University. After graduating, both sisters were unable to find jobs in Gaza and decided to join their sisters in the project.
Nadrin used her academic background to bring a modern touch to the pieces, using bright colours and new ideas.
Meanwhile, Budoor, being an active civil society volunteer, helped spread the word about The Six Flowers.
Two of the sisters are still university students who spend their free time helping their sisters with their work.
The sisters not only make traditional pieces, they created items for modern use including iPad and laptop covers, table cloths and bags.
They use social networking sites such as Facebook to market their products and try to participate in exhibitions held in the Gaza Strip.
Their dream is to have a shop dedicated to the sale of their items and to employ Palestinian women to help them earn a living.