Germany Is Closing 84 Coal Plants to Save the Planet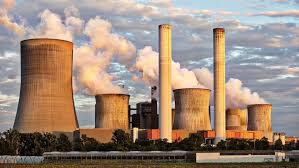 Germany will close all 84 of its coal power plants. The nation — one of the world's largest consumers of coal — will rely on renewable energy instead. The announcement came earlier this year as Germany revealed its struggle to meet its carbon dioxide (CO2) emissions targets. Coal accounted for 40 percent of Germany's electricity at the start of the year, per the Los Angeles Times.
"This is an historic accomplishment," Ronald Pofalla, chairman of the 28-member government commission, said at a news conference in Berlin last January. "It was anything but a sure thing. But we did it. There won't be anymore coal-burning plants in Germany by 2038."
Coal is the EU's biggest economy. Germany accounts for the lion's share, responsible for around one-third of electricity-related CO2 emissions, according to Carbon Brief. It generates roughly half of the EU's electricity from brown coal (lignite), which emits higher levels of CO2.
In the U.S., critics have called out President Trump for his promises to revive the failing industry. Some are taking action — last December, more than 1,000 global institutions pledged to divest from gas, coal, and oil, effectively removing nearly $8 trillion in support.
More than halfway into 2019, German coal production has fallen by a fifth, largely replaced by renewables such as wind farms and solar. Wind is on track to become the country's largest source of electricity, surpassing environmentally-unfriendly lignite. Germany also pledged to close its 19 nuclear power plants since the 2011 Fukushima Daiichi disaster. Renewables will account for 65 to 80 percent of Germany's electricity by 2040, officials say. The nation's largest coal burner, RWE AG, has set a 2040 deadline for turning carbon neutral.
"It's a big moment for climate policy in Germany that could make the country a leader once again in fighting climate change," said Claudia Kemfert, professor for energy economics at the DIW Berlin, the German Institute for Economic Research. "It's also an important signal for the world that Germany is again getting serious about climate change: a very big industrial nation that depends so much on coal is switching it off."
Germany will spend more than $45 million to mitigate losses in coal regions, but some believe the nation isn't acting fast enough. This past weekend, climate activists stood in the way of the entrance of the Block 9 power plant in Mannaheim, said to be the dirtiest coal plant in the country, Clean Techica reports. The group, called End of Terrain, delayed new coal supplies. -Kat Smith, Senior Editor | LIVEKINDLY | New York City, NY