Google Doodle marks Independence Day of Bangladesh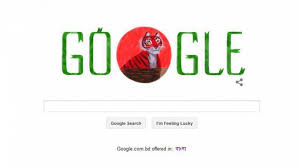 World's most-used web search engine Google has created a doodle marking the 45th Independence Day of Bangladesh.
The doodle, portraying a Royal Bengal Tiger inside a red circle with the sun and river, has been seen above the search box on the homepage of Google since early Thursday, March 26.
The users will get all relevant information on Bangladesh Independence Day by clicking the doodle, which has been featured after the national flag of the country.
First time in the history of Google, it made a doodle commemorating the 43th Independence Day of Bangladesh in 2013.
The internet giant also released another doodle to celebrate the Bangladesh-India Cricket World Cup quarterfinals match at Melbourne, Australia.
The doodle featured batsmen with the flags of both the South Asian neighbours in the background.
Google Doodle is a special, temporary alteration of the logo on Google's homepage that is intended to celebrate holidays, events, achievements and people since 1998.
As of 2014, Google has published over 2,000 regional and international Doodles throughout its homepages, often featuring guest artists, musicians and personalities.
With due solemnity and festivity, the nation is celebrating the 45th Independence and National Day on Thursday.
On March 26, 1971, Bangabandhu Sheikh Mujibur Rahman declared Bangladesh's independence following the crackdown on unarmed Bangalis on March 25 midnight by the Pakistan occupation army.
The day is a public holiday.