GPS tracking buses to be introduced for Hajj season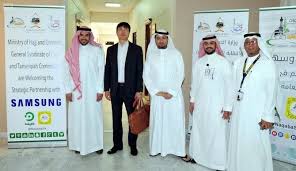 A collaboration between the General Syndicate of Cars, the Saudi Hajj and Umrah ministry, Samsung and other coordinating institutions is underway to ensure the organized transport of passengers during Pilgrimage.
The goal of the strategic parnership is arranging and organizing the transport of pilgrims as they visit holy sites and making trips between cities easy and convenient.
It consists of providing guides on transport busses with 17 thousand tablets supported by Samsung's Knox security, which secure devices and allow the remote control of devices.
The software — to be installed in 17 thousand transport buses — will be used by the syndicate's operation center to redirect buses on routes and maps.
This step will turn them into "smart buses" that can be easily connected with and tracked electronically.