Grand Mosque ready for Ramadan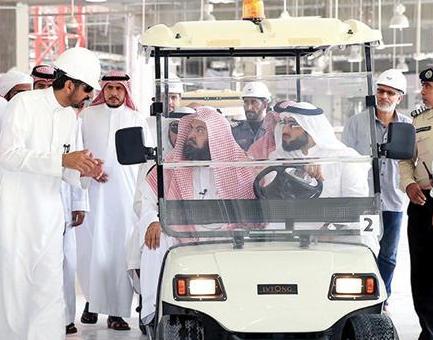 The second phase of the massive ongoing expansion project inside Makkah's Grand Mosque is almost complete, with the first floor area for circumambulation around the House of God, known as the "mataf," expected to be open for pilgrims during the month of Ramadan.
The worksite was inspected by Sheikh Abdul Rahman Al-Sudais, head of the Presidency of the Grand Mosque and Prophet's Mosque Affairs, on Thursday.
"The first floor and ground floors are 100 percent ready for prayer and are fully equipped with elevators and automated stairs, while the second floor is about 80 percent ready," Al-Sudais said.
The second phase involves the eastern side of the mataf and extends from Al-Fatah gate to the Umrah gate, where expansion work being carried out around the clock under the direct supervision of high-ranking officials from the Saudi Binladin Group, the project contractor.
The second phase, meanwhile, is slated to span 25,000 square meters, almost double the area of the first phase.
The area can accommodate up to 75,000 worshippers per hour, said a senior official.
In addition, the old passageway was dismantled and reconstructed to facilitate the movement of pilgrims inside the mataf.
Contractors will stop work for nearly four months given the huge influx of pilgrims between the Ramadan and Haj seasons.
The capacity of the mataf area is expected to increase from 50,000 pilgrims per hour to 130,000 pilgrims when the expansion is fully completed.
Costing over SR100 billion, the King Abdullah Expansion Project is designed to increase the mosque's capacity to more than two million worshippers.