Happy birthday, Prince George!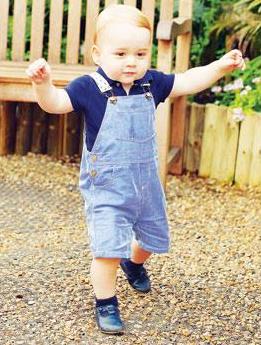 Prince George shows he has got the hang of walking in a new picture released by his parents Prince William and Kate to mark the future king's first birthday on Tuesday.
The little boy, wearing striped dungaree shorts over a navy blue top, is pictured confidently on his feet with his arms outstretched and his eyes fixed on his destination.
The photograph was taken a few weeks ago at London's Natural History Museum, where the Duke and Duchess of Cambridge took their son to visit the Sensational Butterflies outdoor exhibition.
"Prince George was very lively and very sure of himself and confident — a very determined young boy," said John Stillwell, a photographer with the Press Association wire service who took the picture.
"When you have children yourself you don't realize they grow up in such a short space of time — it's always other people saying how big they've grown.
"So having seen him soon after he was born and at his christening three months later, he's now gone from a baby at his christening to a toddler, that's the biggest change.
"And who does he look like? I'd have to say his dad, William."
George has become something of a style icon and his outfit of dungarees by French label Petit Bateau, worn over a polo shirt-style top and with shoes and socks, is likely to be copied around the world.
Influential magazine Vanity Fair celebrated George's birthday by putting him on its front cover, calling him a "media star, style icon and PR triumph," and the world's "most eligible infant."
This is high praise for a one-year-old, but perhaps inevitable given the popularity of William and Kate, the young, fun and relatively modern face of the royals.
With William's brother Harry — — who has joked that his nephew looks like a "young Winston Churchill" — they have helped rebuild the family's image following its much-criticized response to the death of the princes' mother Diana in a 1997 Paris car crash.
Over his first year, the young prince is estimated to have consumed 2,901 liters of breast milk, been burped around 4,092 times and gone through 2,735 nappies, according to research conducted by baby-gift website my1styears.com.
George, the great-grandson of Queen Elizabeth II, "doesn't go to play groups" but he enjoys play dates with the young children of friends.
He appeared comfortable when romping with other tots during a play date in New Zealand, as part of the family's official three-week visit Down Under.
Kate's fashion choices are closely watched and Prince George is building up his own following.
"It's the way his parents dress him in traditional clothes, like collared shirts and smart little shorts which really make him so cute and stylish," said Nicholl, author of biography "Kate — the Future Queen."
My1styears founder Daniel Price added: "If he's spotted wearing or doing anything, then it becomes a sell out or a new trend every mum and dad wants a part of."
Guests to the birthday party are faced with the quandary of what to buy for the baby with everything, but there is one pleasure even a pampered prince will have to defer.
George, who is third in line to the throne after his grandfather Prince Charles and father Prince William, will spend his birthday at home in Kensington Palace.