Hasina attend Suvra Mukherjee's cremation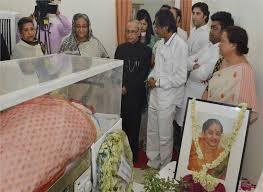 President Pranab Mukherjee's wife Suvra Mukherjee was cremated here on Wednesday, the event attended by Prime Minister Narendra Modi and his Bangladesh counterpart Shaikh Hasina among others.
Suvra Mukherjee, who was ailing for some time, died on Tuesday.
A sombre-looking President Mukherjee and his children Sharmistha, Abhijit and Indrajit were present. And so was Vice President Hamid Ansari.
Mukherjee sat next to Hasina, who is a family friend and arrived in the morning with her daughter Saima Hossain and her sister Sheikh Rehana. Also present was Bangladesh Foreign Minister Mahmood Ali.
West Bengal Chief Minister Mamata Banerjee, who is known to be close to President Mukherjee, was at the cremation too.
Among others who made it to the event were cabinet ministers Sushma Swaraj and Rajnath Singh, Delhi Chief Minister Arvind Kejriwal, former prime minister Manmohan Singh, Congress president Sonia Gandhi, Delhi's Lt. Governor Najeeb Jung, BJP veteran L.K. Advani and Nobel Peace laureate Kailash Satyarthi.
Two Bengali family priests chanted the mantras as the body was kept on a platform for people to offer flowers and pay their last respects.
Sharmistha Mukherjee was in tears as she presided over the arrangements.
The domestic aides of Suvra Mukherjee, who had been with her since she became wheel-chair bound some years ago, were inconsolable.
After the prayers, the body was taken to the electric furnace. President Mukherjee returned in 10 minutes and departed as did the other guests.
The ceremony, which lasted half an hour, caused massive traffic snarls.
Suvra Mukherjee's aides, Anuradha, Shoma and Ashthami, sobbed away at the cremation. Anuradha said she had been with the president's wife for 20 years.
Said another aide, Rakhi: "She was like family. She would do a lot for us."
She said Suvra Mukherjee gifted her daughter, who got married last month, "a lot of gold jewellery".