Headscarfed Muslim woman to run for Greece in EP polls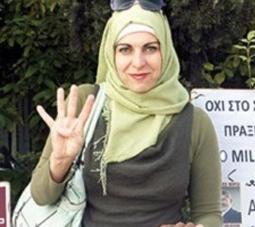 A Muslim, headscarfed Greek woman is running for a seat for her country at the European Parliament, with an eye on preventing any discrimination against Muslims and to ensure equality for Greek Muslims.
Anna Stamou is significant in that she is the first headscarfed nominee in the European Parliament (EP) elections on May 25 and will be the first such MP if elected.
Stamou, wife to an Egyptian husband, describes herself as an active woman, not only in dealing with regional issues but also making efforts for the "big picture."
"I have been nominated from the Eco Green Party Greece – the ecological political party that is a member of the European Green party – as it perfectly reflects my opinions," Stamou tells Anadolu Agency in an exclusive interview.
The basic principles of the Ecologists Greens, as determined by their constitutions are: sustainability, social justice, non-violence, direct and participatory democracy, respect for diversity, decentralization and subsidiarity, protect and restore natural ecosystems, the quality of life, personal and social responsibility and equity and anti-austerity.
Stamou says she was born an Orthodox Christian but "found the answers to her questions" in Islam after delving for years into all religions. A graduate of business management and once a yoga trainer, Stamou states that she is leading a Muslim life since she embraced Islam at aged 30.
She now opts for politics after her "activist" years along with being a teacher.
"What drew me to politics is my objective of guaranteeing a life for Muslims in Greece with equal rights to those of other Greek citizens through all means," she says.
She is responsible for the public relations at the Muslim Association of Greece and is wife of the head of the Muslim Association also.
Stamou also speaks on her ideal to ensure that Greek Muslims become citizens who are able to both fulfil their responsibilities towards their country and claim their rights in equal measure.
"My message to the Greek Muslims is to actively participate in the EP voting process and enjoy their rights to elect and be elected without the fear of their voice falling on deaf ears."
She pointed out the fact that she is the first headscarfed nominee for an EP seat, who argues against any discrimination of people by their appearance.
Stamou asserted that some may take the headscarf as a "threat" but every citizen should do something for their country.
"I will exert all my efforts for ensuring that Muslims do not consider themselves as a minority in Greece. If I get elected for the EP, I will fight for equal right for Muslims and the prevention of discrimination against Muslims," she said.
Another goal of Stamou is to work for the construction of a mosque in Athens – the sole European capital without a mosque. Efforts to this end have been delayed for years for an "unknown reason" she claims.
Greek candidates will stand for 21 seats in the European Parliament during the European Election on 25 May, coinciding with the local elections in the country. The number of seats allocated to Greece declined from 22 to 21, as a result of the 2013 reapportionment of seats in the EP.
In the 2009 elections, the Ecologist Greens of Greece won only one seat at the EP after receiving 3.49 percent of the votes.