Herfy to open outlets in Bangladesh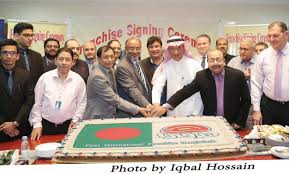 Ghazanfar Ali Khan: Herfy, a major Saudi fast-food services company, has signed an Area Development Franchise Agreement with Greenland Services Ltd., a business unit of Greenland Group of Bangladesh, to expand its business horizon beyond the Middle East.
The agreement spells out a vision to open 30 Herfy outlets in Bangladesh in a staggered schedule within a few years.
A signing ceremony for the agreement held here recently was attended by Herfy CEO Ahmed H. Al-Said, Bangladesh Ambassador Golam Moshi and Greeland Chairman Mohammad Abdul Hye.
The ceremony was also attended by a large number of guests and
Diplomats, top executives of the Herfy Food Services led by Al-Said, and a large number of guests were also present.
This is the first agreement of its kind between the private sector of the two countries as the Bangladesh economy remained strong and resilient despite external and internal challenges.
In fact, Bangladesh is among the top 12 developing countries with a population of over 20 million, which achieved 6 plus percent growth in 2016.
Now, Bangladesh needs to focus on a growth agenda centered on sustainable and inclusive growth.
Referring to the Herfy-Greenland deal, a press statement said that the agreement entitles Greenland to open 30 stores in Bangladesh within a few years from now. Herfy, as a market leader in fast-food, aspires to expand its presence in other countries. "The business accord that ensures opening of Herfy restaurants in Bangladesh is the first step toward that direction," said Abdul Hye.
He pointed out that the first Herfy restaurant will be opened this year. He added that Greenland was interested to bring 100 percent halal and hygienic food to the Bangladesh market following the deal with Herfy.
The move to open Herfy dine-in and drive-through restaurants in Bangladesh is significant keeping in view the rapid growth of the fast-food industry sector of Bangladesh.
The food taking habits, especially in the fast-food segment, has been changed a lot over last decade among the people of that South Asian nation.
A large number of Bangladeshi nationals, who have been residing and working in the Kingdom, have developed tastes and likings for Saudi fast-foods including Herfy.
"Today, Herfy is a major fast food restaurant chain in the Kingdom and one of the largest in the Middle East, surpassing international chains in terms of presence," the statement added.