Historic hot weather bakes Europe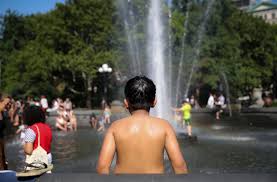 With a hot weather spell toasting most of Europe, Friday saw record-breaking temperatures in France, Britain, Belgium, and the Netherlands.
The hottest day in 40 years was seen in the French capital Paris as the mercury hit 36 degrees Celsius (96.8 Fahrenheit), and could go as high as 39 degrees (102.2 F) in some cities.
French weather officials have issued an "orange alarm" warning in 25 cities due to hot weather.
In the U.K., temperatures are expected to climb to 38.5 degrees Friday, as the hottest day of the year was seen on Thursday with thermometers reaching 35.1 degrees.
The hot weather has caused travel disruptions and water shortages.
British authorities have also warned the public of thunderstorms, torrential downpours, and flash floods expected to hit the country Friday afternoon.
The hottest-ever day in the country was in 2003, with 38 degrees Celsius.
Meanwhile, a report by a parliamentary committee warned on Thursday that deaths due to hot weather could rise to 7,000 in the next 35 years, if the government fails to take necessary precautions.
More than 2,000 people died over 10 days in 2003, when the country was hit by a heat wave.