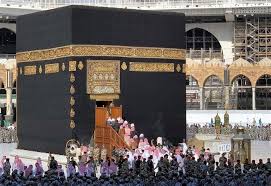 On behalf of Custodian of the Two Holy Mosques King Salman, Prince Khaled Al-Faisal, emir of Makkah and advisor to Custodian of the Two Holy Mosques, led the ceremonial washing of the Holy Kaaba on Monday.
Upon arrival at the Grand Mosque, the emir was received by Sheikh Abdulrahman Al-Sudais, head of the Presidency for the Affairs of the Two Holy Mosques. Then, Prince Khaled washed the Kaaba from inside with Zamzam water mixed with rose water.
After the ceremony, he circumambulated the Kaaba and performed voluntary prayers. Deputy Emir of Makkah Prince Badr Bin Sultan, Minister of Haj and Umrah Mohammed Saleh Benten, ministers, members of the Islamic diplomatic corps accredited to the Kingdom, senior officials and citizens participated in the washing ceremony.
Kaaba, Islam's holiest shrine, is being washed once in a year, following the example of the Prophet (peace be upon him).