Holy Quran Award : Bangladeshi wins Most Beautiful Voice contest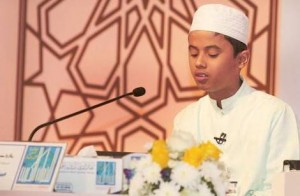 Shafaat Shahbandari: Bangladeshi contestant Nazmul Sakib has bagged the top prize in the Most Beautiful Voice contest and is a strong favourite to win the 17th Dubai International Holy Quran Award (DIHQA), which will be announced on Monday.
Curtains will fall on the 17th session of DIHQA today in a closing ceremony that will also see conferring of the Islamic Personality of Year award on renowned Islamic preacher and orator Dr Zakir Naik of India.
DIHQA had earlier announced the Grand Imam of Egypt's Al Azhar Mosque and University, Shaikh Ahmad Al Tayyeb, as Islamic Personality of the Year, but in an unprecedented move changed its decision due to Al Tayyeb's inability to travel amid Egypt's worsening security situation.
The closing ceremony on Monday is a culmination of DIHQA's year-long events that include several local programmes like Quran memorisation for prisoners and the elderly, Quran recitation and memorisation for students, research work in Quranic sciences and manuscripts as well as a series of lectures that precede the international competition every Ramadan.
This year, DIHQA's main Quran contest saw 90 participants from across the world, of whom 10 were disqualified for various reasons. The competition ended on Saturday with the Most Beautiful Voice contest that saw 13 contestants participating in a tight race. The competition witnessed some soul-stirring renditions with the 12-year-old Bangladeshi ticking all the boxes.
"I'm really happy to win this prize and hopefully the bigger prize will follow Inshallah. My father who has worked hard in training me is really happy and I m proud that I didn't let him down," said the shy Bangladeshi, who won Dh5,000 as a top prize.
Yemen's Ebrahim Ahmad Saeed took the number two position and was awarded Dh4,000. The third position was tied between Egypt's Mohammad Ashraf and Indonesian Ulul Amr Zain Al Deen, who won Dh2,000 each. The fourth position was taken by Afghan contestant Ahmad Baher, who received Dh1,000.
The Best Voice competition is DIHQA's subsidiary contest that was initiated as an added attraction a few years ago. Among the criteria for the competition are voice modulation, correct diction, right intonation etc.
Meanwhile, several contenders have lined up for DIHQA's top prize with exceptional performances, including Bangladeshi Nazmul Sakib, Egypt's Mohammad Ashraf, Yemen's Ebrahim Ahmad Saeed, Niger's Mohammad Bello Amma and UAE's Zaid Ali Al Jaberi.
Interestingly, over the last 17 years of the competition, none of the UAE participants has ever won the contest and this year the 14-year-old Emirati participant has raised hopes with a heart-warming performance.
"I would like to believe I have done well by the grace of Allah, but the results are in Allah's hands. I would accept anything that comes my way. I'm more bothered about getting Allah's blessings and mercy," said Al Jaberi, who is the first hafiz (one has memorised the entire Quran) in his family.
The grade 9 student, who became a hafiz at the age of nine, thanked his father and his entire family for their support and hoped he would make them proud.
The winner of the DIHQA main Quran contest takes home Dh250,000 while the first runner up wins Dh200,000 and the second runner up gets Dh150,000. Every participant of DIHQA goes home with cash prizes with the minimum being not less than Dh20,000 along with Umrah packages.
The Islamic Personality of the Year is awarded Dh1 million, which was won by Shaikh Yousuf Estes from the United States of America last year.