Holy Qur'an is bringer of glad tidings for humanity: Qari Basit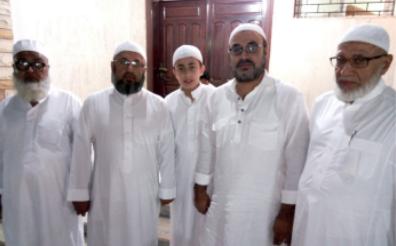 "The Holy Qur'an is the bringer of glad tidings for humanity. This, as the final message of peace and prosperity from the Al-Mighty Allah, will guide future nations too," said Sahebzadah Qari Abdul Basit at a program that was organized to celebrate completion of the memorization of the Holy Qur'an by Syed Zain Usamah Hasan at Aziziyah.
Syed Zain is the son of Syed Ahmad Usamah and a grandson of famous Indian philanthropist and socialite from Lucknow, Syed Hasan Akbar. A large number of Indian, Pakistani expatriates and Saudis attended the program.
Qari Abdul Basit, principal of the Majma Abdullah Bin Mas'ood Tahfizal Qur'an in Aziziyah District, Jeddah, chaired the event.
Syed Hasan Akbar lauded his daughter-in-law for her role in the completion of the memorization of the Holy Qur'an of his grandson Syed Zain. "My daughter-in-law has also memorized the Holy Qur'an. She wanted to see her son to be a Hafiz too. Now her prayers are answered and the labor of her fruit is visible in the accomplishment of the Hifz by Syed Zain. My son Syed Usamah had also provided conducive environment for his son to memorize the Holy Qur'an," said Syed Hasan Akbar.
Syed Zain is12 years old and is a Class VII student in Open School of International Indian School, Jeddah. The program concluded with the supplication of Sahebzadah Qari Abdul Basit.