HSBC Q3 profits up five-fold to $4.6 bn on booming Asia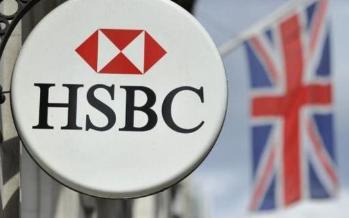 Profits at banking giant HSBC leapt five fold in the third quarter to $4.6 billion, the company said Monday, as business booms in Asia and a huge restructuring drive bears fruit.
The massive jump in pre-tax profits came weeks after a new chief executive was unveiled as part of a management overhaul that has seen the London-based behemoth roar back from costly write downs.
John Flint, head of retail banking and wealth management, will take up his position in February when current head Stuart Gulliver steps down, and has said he wants to "accelerate the pace of change."
The Asia-focused firm has been on a recovery drive to streamline its business and slash costs since 2015, including laying off tens of thousands of staff.
That came as part of wide-ranging restructuring programs during a troubled period for the bank and sector as a whole following the global financial crisis in 2008.
Reported pre-tax profit jumped to $4.6 billion in the three months to the end of September, compared with $843 million over the same period in 2016.
Shares were up 0.7 percent at HK$77.65 ($9.95) in early afternoon trading.
Gulliver said the bank had "maintained good momentum in the third quarter," with higher revenue across its main global businesses.
"Our pivot to Asia is driving higher returns and lending growth, particularly in Hong Kong," he added.
Net profit also rose from a loss of $617 million in the third quarter of 2016 to $2.96 billion.
Profits in 2016 had been hit by the loss on sale of the bank's operations in Brazil, the bank said in its statement.
Analysts said the result was better than expected.
"I think HSBC is one of the best international banking stocks at this moment," Dickie Wong, executive director of research at Kingston Securities, told AFP.
"It is the third consecutive quarter that earnings and revenue have increased."
The bank said it was on track to achieve annual cost savings of $6 billion by the end of the year.
After some strong profitable years under Gulliver, HSBC earnings plunged in 2016 on huge write downs and restructuring charges. Profits rebounded in the first half of this year.
The bank had in 2015 set out a plan to axe 50,000 jobs and exit non-core markets, as it also navigated a series of damaging probes into HSBC operations.
Wong pointed out that it may still feel the effects of legal challenges and expenses.
"HSBC has had to spend a lot of money to hire more lawyers to help them to fix their legal problems and to enhance their compliance department," Wong said.
"This is something that may pull them back."
The bank was fined $1.92 billion by US prosecutors in 2012 to settle allegations that it failed to enforce anti-money laundering rules exposing it to exploitation by drug cartels and terrorist organizations.
In 2015, HSBC was forced to apologize for "unacceptable" failings at its Swiss division following allegations that the unit helped rich clients hide billions from the taxman.
Also during Gulliver's seven years at the helm, HSBC was fined along with other global banks by US and British regulators for attempting to rig foreign exchange markets.
Last week a British court ruled that former currency trading executive Stuart Scott should be extradited to the United States to face fraud charges, days after a US jury found his alleged co-conspirator guilty.