Huge blasts kill 57 in China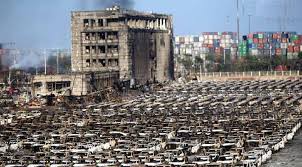 Enormous explosions at a chemical warehouse in a major Chinese port city killed at least 57 people and injured more than 700, official media said Thursday, leaving a devastated landscape of incinerated cars, toppled shipping containers and burnt-out buildings.
An AFP reporter in Tianjin saw shattered glass up to three kms (two miles) from the site of the blast, a storage facility for dangerous goods where the detonation unleashed a vast fireball that dwarfed towers in the area, lit up the night sky and rained debris on the city. The explosion was felt several kilometers away, even being picked up by a Japanese weather satellite, and images showed walls of flame enveloping buildings and rank after rank of gutted cars at an import facility. Paramedics stretchered the injured into the city's hospitals as doctors bandaged up victims, many of them covered in blood. Scores of firefighters were already on the scene before the explosion, responding to a fire. Xinhua said 701 people were hospitalised, 71 of them in critical condition.