Huge umbrellas to be installed at Makkah Grand Mosque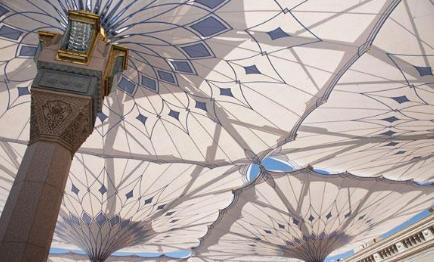 Custodian of the Two Holy Mosques King Abdullah has approved a project to install about 300 sunshades in the courtyards of the Grand Mosque in Makkah, similar to the ones at the Prophet's Mosque in Madinah.
Makkah Gov. Prince Mishaal bin Abdullah thanked the king for the royal gesture that would reduce the difficulties of worshippers who pray in the mosque's courtyards under the scorching sun.
"We have decided to install more than 300 umbrellas in the courtyards around the Grand Mosque including the newly expanded areas," said Sheikh Abdul Rahman Al-Sudais, head of the Presidency for the Two Holy Mosques.
He said the umbrellas would cover about 275,000 square meters of open space surrounding the mosque.
The Prophet's Mosque in Madinah has nearly 250 umbrellas for the comfort of the pilgrims. Like blooming flowers, the umbrellas are programmed to fold and unfold in minutely delayed sequence to avoid collision between their moving parts. Their near-silent operation is automatically aligned with changes in the daily temperature. They open each morning, creating a translucent ceiling, and retract each evening in less than three minutes.
In summer, the open umbrellas provide daytime shade and reflect away much of the sun's radiant energy. When closed at night, they allow residual heat absorbed by the stone floors and walls to escape back into the atmosphere. The process is reversed in winter. When temperatures are relatively low, umbrellas are closed during the day to allow the winter sun to warm the site, and opened at night to retain heat near ground level.
The mosque itself is air-conditioned. Lowering temperatures in the surrounding courtyards reduces the demand for cooling inside. Shading the courtyards accomplishes this, plus providing more comfortable areas for pilgrims and worshippers.