Hundreds of Muslims pray for rain in drought hit California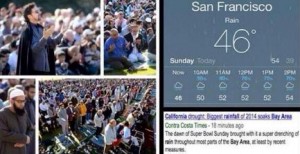 Hundreds of Muslims in the US state of California gathered outside in San Francisco on Saturday to pray for rain, as scorching temperatures in an unusually hot summer threatens to leave the state in drought.
Muslim scholar and co-founder of the Zaytuna College Hamza Yusuf led the prayers in a mass event organized by the Council of American-Islamic Relations (CAIR).
This was the biggest gathering of Muslims performing the prayer for rain, called Salat-ul-Istisqa, a well-known practice from the tradition of the Prophet Muhammad (peace be upon him), after similar gatherings in other cities.
California governor Jerry Brown announced a drought emergency in January while federal officials also declared the drought a natural disaster in counties in 11 western and central states.
Lo-and-behold, the following day, the Bay Area of California saw some rain.