IDB president receives King Abdullah Award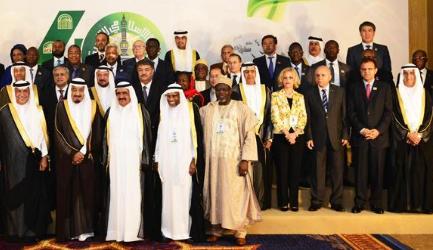 Islamic Development Bank (IDB) President Ahmad Mohamed Ali has received the King Abdullah Award for his dedicated service to the Muslim Ummah and bringing honor to the Saudi Arabian government.
The award was presented to him by Crown Prince Salman on behalf of Custodian of the Two Holy Mosques King Abdullah during the opening ceremony of the IDB's 40th anniversary celebrations in Jeddah.
In his speech during the opening ceremony, Prince Salman thanked the IDB president for serving Islam, as well as Saudi Arabia.
Prince Salman thanked the entire IDB staff and member countries for their contribution to the development of the Muslim Ummah.
Ibrahim Al-Assaf, finance minister and the chairman of IDB Governors, thanked the crown prince for gracing the occasion and providing support to IDB.
"IDB has grown immensely by becoming one of the most important institutions that enhance Islamic finance and bring development to member countries," the finance minister stated.
"We have seen many changes because of the effort of the IDB, which is extended not only to Muslim countries but to non-Muslim countries as well," said Al-Assaf.
The minister then thanked the IDB president for leading the institution with wisdom and diplomacy.
The IDB president was granted the King Faisal prize in appreciation of this.
The award was ordered by King Abdullah to honor the IDB chief's contribution to Muslim countries, said Al-Assaf.