Imran and Reham in Makkah to perform Umrah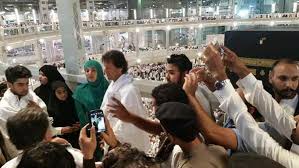 Pakistani cricket legend-turned-politician Imran Khan arrived in Jeddah on Wednesday to perform Umrah with his new wife Reham.
Some of his close friends in Jeddah, including Zultec CEO and philanthropist Zulqiurnain Ali Khan and Saudi Steel CEO Mohamed H. Zakaria, welcomed the newly-weds at King Abdul Aziz International Airport.
"It is a private visit," Zulqiurnain Ali Khan told Arab News. "Performing Umrah is a great blessing and Imran and his wife wanted to be here to thank Allah as they embark on a new phase in their personal lives. Obviously, he and Reham are delighted to be here in the holy land," he said.
"They are here to pray for the victims of the Peshawar tragedy and for the well-being of Pakistan."
Imran, who heads Pakistan's Tehreek-e-Insaf, is popular among young Pakistanis and has received tremendous support for his campaign for electoral reforms. He recently rallied his supporters for a marathon sit-in in Islamabad that almost crippled the current government.
His marriage to Reham on Jan. 9 has become the talk of the town and his followers are following his every move. Reham, a television broadcaster and anchor, who formerly worked for the BBC, looked calm and serene on arrival at the airport. She wore a white scarf covering her hair and a beige shawl wrapped around her shoulders.
A few hours after their arrival, they left for Makkah to perform Umrah with close friends. On Thursday, they will head to Madinah to pray at the Prophet's Mosque.
They will return to Jeddah on Friday where there is an exclusive party arranged for the couple.
Overseas Pakistanis in Jeddah, especially the late Ahsan Rashid, played a prominent part in organizing Imran's political party.