Imran Khan confirms marriage to former BBC anchor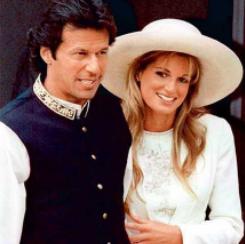 Former Pakistani cricketer-turned-politician Imran Khan has confirmed his marriage to a former BBC anchor, according to Pakistan media reports on Tuesday.
I am going to Pakistan to share the good news of my marriage with the nation. I have nothing to hide, he was quoted as saying by Pakistani media, which spoke to him at Heathrow airport late on Monday night before he caught a flight to Islamabad.
Khan also told the Pakistani reporters that getting married isn't a crime.
The 62-year-old head is the head of the Pakistan Tehrik-e-Insaf Party.
There have been rumours doing the rounds for the last few days that Imran Khan had secretly married former BBC anchor Reham Khan in a hush-hush wedding.
Imran is believed to have tied the knot last weekend with Pakistani news anchor Reham, 41, who is a divorcee and mother-of-three.
She lived in Britain for part of her previous marriage, when she was a weather girl and presenter on the BBC regional news programme 'South Today'.
Imran was previously married to Jemima 'Goldsmith' Khan and has two sons with her, Sulaiman Isa and Kasim. The couple divorced in 2004.
Jemima had revealed in October this year that she was ditching the surname 'Khan' and reverting to her family name because her ex-husband was about to remarry.
She said at the time: My ex-husband, Imran, recently announced that he intended to get remarried soon, which made me think it's probably time to change my name back to Goldsmith.
A family friend said that relatives including his sisters were against the marriage and were surprised he went ahead.