India-UAE agree to chart a new partnership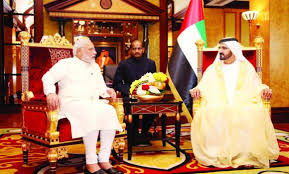 India's prime minister and Abu Dhabi's crown prince said Monday they have agreed to enhance defense, investment and trade relations as Narendra Modi prepares to wrap up his visit to the United Arab Emirates, where some 2.6 million Indians work.
Indians outnumber the local Emirati population and comprise around a third of the total population in the UAE, a federation of seven emirates that includes Dubai and Abu Dhabi.
Following their meeting and lunch, Crown Prince Mohammed bin Zayed Al Nahyan and Modi released a joint statement saying that the visit by the Indian prime minister marks the beginning of a new and comprehensive partnership between the UAE and India.
"In the past, relations between the two governments have not kept pace with the exponential growth in relations between their people or the promise of this partnership," the statement said, adding that the pair agreed to "chart a new course in their partnership."
The statement said that they also agreed to strengthen defense relations, including through regular exercises, training and cooperation in manufacturing defense equipment in India.
India is the UAE's second-largest trading partner and the UAE is India's third largest trading partner behind the US and China, according to the Indian Embassy. Trade between India and the UAE reached $60 billion last year. The joint statement acknowledged that, "India and the UAE share centuries-old ties of commerce, culture and kinship."
Modi, who has come under fire for his party's links to hard-line Hindu groups, kicked off his visit on Sunday with a tour of Abu Dhabi's Sheikh Zayed Grand Mosque. Modi, a Hindu like most of India's 1.2 billion people, has long had an uneasy relationship with his country's roughly 120 million Muslims.
Modi wrote on this official Twitter account Sunday that the UAE government agreed to allot land for a Hindu temple in Abu Dhabi, which he called "a great step." There is already one Hindu temple in nearby Dubai.
Before holding talks with Sheikh Mohammed on Monday, Modi toured Masdar City, the site of a renewable energy and sustainable technology project in Abu Dhabi.
Modi also met on Monday with members of the UAE's wealthy Indian business community. Annual Indian remittances from the UAE are estimated at $14 billion. Indians are among the largest investors in UAE real estate, and have helped make Dubai International the busiest airport globally for international transit passengers, with more than 950 weekly flights between the two countries.
However, the Indian Embassy says that half of the 2.6 million Indians working in the UAE are lower-wage migrant laborers. Many hold construction jobs, building the UAE's dazzling skyscrapers and shopping centers.
On Sunday, Modi visited a labor camp in Abu Dhabi where 50,000 migrant workers live, around 40 percent of them Indian. He met briefly with a few hundred Indian workers at the camp, shaking hands and listening to their struggles and requests, including lifting transfer taxes on remittances.