Iranians rally to mark 35 years of revolution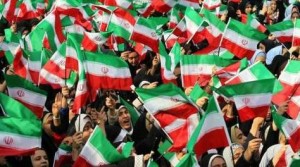 Hundreds of thousands of people gathered on the streets of the Iranian capital and cities around the country to mark the 35th anniversary of the Islamic Revolution.
In Tehran, huge crowds thronged central Azadi square on Tuesday for a speech by the president Hassan Rouhani, his first major address to the public since his election in August.
Rouhani launched into the traditional anti-US rhetoric despite a significant political shift in Tehran, which resulted in his election last year as a leader pursuing a policy of outreach to the West.
"The people's vote had no role in running this country. This was a huge humiliation," Rouhani said, referring to the period when Iran was a constitutional monarchy.
"People wanted their views to be an influence [but] the big powers were interfering in the internal affairs of this country … The Americans thought the country of Iran belongs to them. They interfered everywhere even on security issues."
The revolution was set in motion in 1979 after a siege began some 10 months following the fall of the US-allied shah.