ISIS Releases 49 Turkish Hostages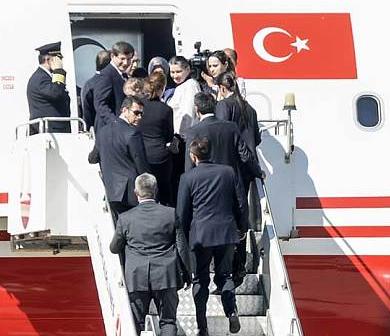 49 Turkish hostages who were held in Mosul by ISIL more than 3 months have been released early Saturday.
Turkish Prime Minister Ahmet Davutoglu said that 49 Turkish hostages who have been held by ISIL in Iraq's Mosul city have been freed and brought back to Turkey Saturday morning.
"They came to Turkey at 5 a.m. in the morning. We followed the developments closely all night… This happy development prepared us for a beautiful morning…I am very proud to share this happy news", Turkish PM told cameras in Baku where he was visiting.
Davutoglu said the freed citizens have crossed the border at about 5:00 a.m. Turkish time and they were being taken to southern Turkish city of Sanliurfa and thanked Turkish intelligence agency for the happy development.
"This was a procedure carried out through MIT's own methods. This work had intensified in recent days," he said in comments broadcast by Turkey's state-run TRT television.
Davutoglu cut short his Azerbaijan visit to meet the hostages at the GAP Airport in Turkey's southeastern province of Sanliurfa.
Davutoglu and the freed hostages boarded a flight to the capital, Ankara, where they landed at the Esenboga Airport at11:30 a.m. local time.
Because of the increasing crowd, broad security measures have been taken. The families of the released hostages are expecting to meet their loved ones at a VIP waiting hall section at the airport.