Islam is an intellectual and scientific religion: OIC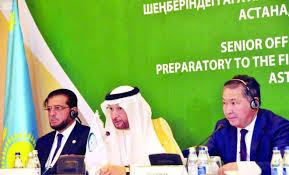 The ministerial meeting preparations for the Organization of Islamic Cooperation (OIC) for Science, Technology and Innovation Summit were held in Kazakhstan's capital of Astana.
The relevant ministers from the organization's member states adopted the working document of the OIC for Science and Technology 2026 to be discussed and considered for adoption among member states' leaders, who will be meeting for the first time to discuss science and technology matters.
OIC Secretary-General Yousef Al-Othaimeen, in a speech before the opening session, said that this summit is a historic event, since it will be the first summit for OIC heads of state and government dedicated to promoting and developing the science and technology he described as "empowering tools," and factors promoting social and economic development in these states.
Al-Othaimeen said: "The summit is unique, since it emphasizes that Islam is an intellectual and scientific religion seeking to liberate people from delusions and fantasies and fight against extremism."
He further announced the development of the organization's document, following intensive discussions with 157 scholars and technical experts from 20 member states.
He underlined that the working document provides a thorough overview of emerging science and technology, and their social and economic ramifications. The document has specific priorities and recommendations to help member states meet the challenges of developing education standards, provide job opportunities for youths, mitigate the negative effects of climate change, and improve human health, energy and water resources.
The document includes scientific programs that can be jointly implemented by many countries, and he emphasized that these programs will be the main empowering factors to build a knowledge economy in member states and allow their economies to rely on industrialization.
Al-Othaimeen emphasized that the success of the organization's work has been due to the cooperation and collaboration among the member states, and he called for replacing national programs with collaborative and complementary activities.