Islami Bank ranked in thousand top banks of the world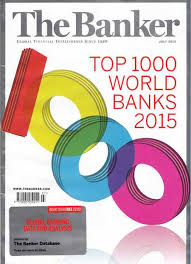 Islami Bank Bangladesh Limited has been ranked among the top 1000 banks of the world as the sole bank of the country. The Bank's position is now 954th in 2015 based on the strength of Tier-1 capital progressing 46 steps in three years. In 2012, 2013 and 2014, the Bank's position was 1000th, 984th and 970th respectively. Besides, the bank has been ranked as 70th, 250th, 791st and 785th considering the return on capital, return on assets, capital assets ratio and amount of assets of the Bank respectively.
UK based century-old magazine 'The Banker' has been conducting rating of the top 1000 world banks setting the industry benchmark since 1790 providing comprehensive intelligence about the health and wealth of the banking sector. The magazine publishes the list in July every year on the basis of data and evaluation of more than 5 thousand leading banks from 163 countries, which is appreciated and recognized worldwide. By securing this position, IBBL has got recognition as a global standard bank and brought glory for Bangladesh. This prestigious ranking signifies the strength and progress of financial sector of the country.