Israel re-arrests Palestian hunger striker Khader Adnan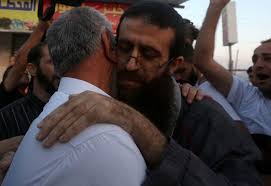 Khader Adnan, a member of the Islamic Jihad political party and resistance group, was arrested today in occupied Jerusalem just one day after his release which was eventually secured by a 55-day hunger strike in Israeli prison.
Palestinian and Israeli media reported that Adnan was detained on his way to worship at al-Aqsa mosque on the occasion of Leilat al-Qadr, which Muslims observe during Ramadan to mark the revelation of the Quran to the Prophet Muhammad.
Israel has imposed severe restrictions on Palestinians living under its military occupation regime. The Bethlehem-based Ma'an News Agency reported that access to al-Aqsa mosque was tightened ahead of Leilat al-Qadr.
"All Palestinian [males] between the ages of 12 and 30 were denied entry into occupied East Jerusalem, while men between the ages of 30 and 50 required Israeli permits," according to the agency.