Israeli snipers shooting aid workers in Gaza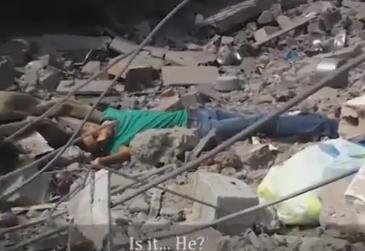 Video footage has emerged of what appears to be Israeli snipers shooting at civilians and aid workers in the Gaza Strip as they scour the ruins of bombed buildings looking for survivors.
The aid workers, clearly marked in fluorescent jackets, are seen ducking for cover as gunshots are heard.
One young man who attempts to escape the danger zone is immediately shot and injured upon moving.
As he lay wounded, invoking in prayer, another shot is heard.
It is then that the aid workers realize that an Israeli sniper has shot the injured man dead.
The Palestinian death toll from Israel's ongoing offensive against the Gaza Strip has risen to 583 as the Israeli army launched fresh attacks on the blockaded enclave, according to the Palestinian Health Ministry.
A fresh Israeli airstrike targeted a house in Deir al-Balah city in central Gaza Strip, killing five Palestinians, while a sixth was killed in another raid in Khan Younis in the south, Health Ministry spokesman Ashraf al-Qodra told Anadolu Agency,
Since July 7, Israel has pounded the embattled coastal enclave with fierce air and naval bombardments with the stated aim of halting Palestinian rocket fire.
On Thursday night, Israel stepped up its offensive to include ground operations, sending thousands of troops into the embattled Palestinian territory.
Israel's military operation, dubbed "Operation Protective Edge," is the self-proclaimed Jewish state's third major offensive against the densely-populated Gaza Strip – which is home to some 1.8 million Palestinians – within the last six years.