Ithra in TIME's 'World's Greatest Places' list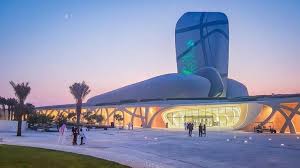 A Saudi architectural icon has been named in TIME magazine's first annual list of the "World's Greatest Places."
The King Abdulaziz Center for World Culture in Dhahran, also known as Ithra, is included in the list of places to visit, as are Abu Dhabi's Louvre and the UAE capital's Warner Bros. World theme park.
Ithra was built as a corporate social responsibility initiative by Saudi Aramco to serve as a national and regional catalyst for intellectual development, creativity and cross-cultural sharing. Its state-of-the-art, multi-disciplinary facilities attract thousands of visitors for initiatives and events from around the world.
The center consists of a 1600-square-meter Great Hall; a museum with four galleries, each focusing on a specific range of cultural expression spanning Saudi identity and heritage, Islamic art and civilization, and the culture of the Arabian peninsula. A cinema is home to the Saudi Film Festival, and a library holds more than half a million items. The Performing Arts Theater is a 1,000-seat opera house, and the Knowledge Tower hosts 2,000 annual workshops including STEM (science, technology, engineering and math) and reading programming for youth.
By showcasing the Kingdom's rich cultural heritage and hosting or collaborating on international projects, the King Abdulaziz Center encourages the understanding that flows from artistic expression into all aspects of life, at home and abroad.
Since its inauguration by the King Salman in 2016, the Center has emerged as a pioneering force offering unprecedented access to unique arts, culture and knowledge programming.
The beautiful 14th century Al-Qarawiyyin Library in Fez also made the cut, while Cairo's Marriott Mena House hotel was considered one of the best places to stay in the world.
In its introduction to the list, TIME explained how it asked for nominations "across a variety of categories— such as museums, parks, bars, restaurants, theme parks, cruises and hotels— from editors and correspondents around the world as well as dozens of industry experts."
They then used a series of criteria to evaluate each nomination — quality, originality, innovation, sustainability and influence.
See the full list here.