Jamaat Leader Kamaruzzaman executed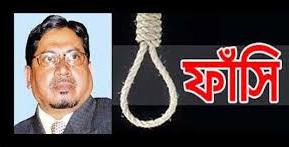 Jamaat-e-Islami Senior Assistant Secretary General Mohammad Kamaruzzaman has been hanged. The 65-year-old Jamaat leader was executed at Dhaka Central Jail at 10:01pm on Saturday.
His execution was made effective despite the call of the United Nation, the European Union and the Human Rights Watch to commute his capital punishment.
Of them, the Human Right Watch and the UN questioned about the transparency and credibility of his trial.
It was the second execution 44 years after the independence of the country on charge of crime against humanity after fellow Jamaat leader Abdul Quader Molla to walk the gallows in 2013.
The only thing blocking his execution was the issue of presidential mercy.
Kamaruzzaman refused to seek presidential clemency saying "only God is the owner of our life, why should I seek pardon to the president for my life".
Kamaruzzaman's relatives at his ancestral home at Kumri Bajitkhila in Sherpur district's Sadar Upazila are prepared for his burial.
He will be buried there following his wish, according to his elder brother Kafil Uddin.
A large contingent of police, RAB and detective police took position in the jail area in the evening in a standard procedure before the imminent execution.
Streets around the jail were closed to traffic soon after Inspector General of Prisons Syed Iftekhar Uddin arrived just before 7pm.
A scanner was immediately set up in front of the jail gate.
Dhaka's Deputy Commissioner Tofazzal Hossain Miah and Civil Surgeon Abdul Malek Mridha arrived at the jail around 9pm.
A magistrate and an Islamic cleric also entered Kamaruzzaman's cell around half an hour later.
Hundreds of people thronged the area in the afternoon after Kamaruzzaman's family entered the jail to meet him.
The Jamaat-e-Islami senior assistant secretary general's family met him in prison on Apr 6 following a call from the jail authorities.
A copy of the final verdict reached the jail on Apr 8 and was read out to him.
Two district magistrates met him on Friday to ask him if he would seek pardon.Born in Bajitkhila on July 4, 1952, Kamaruzzaman was the chief of the Mymensingh unit of Jamaat-e-Islami's then the student wing Islami Chhatra Sangha .
In 1972, Kamaruzzaman cleared his higher secondary exams from Mymensingh's Nasirabad College. He then went on to study journalism at Dhaka University and completed his master's in 1975.
He served as the President of Jamaat-e-Islami's student affiliate Islami Chhatra Shibir between 1978 and 1979.
He was a renowned politician, writer, orator, intellectual, journalist and Islamic thinker.
Kamaruzzaman joined Jamaat's Dhaka City chapter in October 1979 and was sworn in as a full Jamaat member (Rukun) in 1979.
In 1980, he joined as Executive Editor of monthly Dhaka Digest. A year later, he edited weekly 'Sonar Bangla'. He also worked for Jamaat's mouthpiece daily 'Sangram' as Executive Editor.
He was appointed Joint Secretary to Dhaka City unit Jamaat for the 1981-82 term and served as Publicity Secretary of the party from 1983 to 1991.