Janet Jackson converts to Islam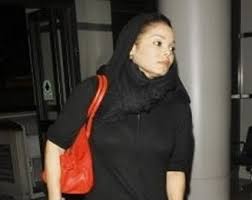 The 49-year-old singer – who married Muslim billionaire, Wissam Al Mana, 40, in 2012 – is reportedly taking the religion so seriously that she has even toned down her raunchy costumes and dance moves for her comeback tour.
A source told The Sun "She feels like she has found a home with her new religion and has told members of her family, who completely respect her choice.
"She has spent a great deal of time studying the religion and its followers. "The days of raunchy dance moves and sexual lyrics are long gone for Janet."
The newspaper reports that Janet even ends her 'Unbreakable' world tour shows with "Insha Allah" which means "If Allah wills". Meanwhile, Janet has pulled out of the iHeartRadio Music Festival this weekend.
She was slated to perform at the MGM Grand Garden Arena along with a host of other acts including Kanye West, the Killers, Coldplay, Kenny Chesney, Blake Shelton, the Weeknd, Duran Duran, Lil Wayne, David Guetta and Disclosure.
However, the Las Vegas Review-Journal reports that Janet has had to cancel "due to an ear-related issue that prevents her from flying".