Jeddah blaze kills 2 expats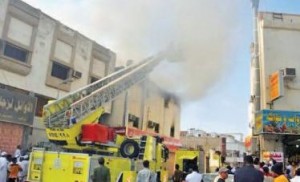 A big fire in an old building in Jeddah's Al-Jamia district killed two Bangladeshis and injured five Yemenis on Friday.
Civil Defense firefighting teams contained the blaze and transferred the injured to King Abdul Aziz Hospital.
The Civil Defense said in a statement that it sent five teams to the site. The firefighters evacuated all the residents.
The fire had started on the second floor and spread to the third floor, the statement said.
The Civil Defense teams saved five people on the second floor. The old dilapidated building had partially collapsed and hampered rescue efforts. One fireman was injured during the operation, the statement said.
The Civil Defense is trying to determine the cause of the fire.
Several eyewitnesses who live in the district told Arab News that the huge blaze had also threatened nearby buildings.