Jeremy Clarkson dropped from BBC Top Gear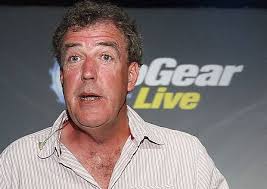 Jeremy Clarkson's contract will not be renewed after an "unprovoked physical attack" on a Top Gear producer, the BBC's director general has confirmed.
Tony Hall said he had "not taken this decision lightly" and recognised it would "divide opinion".
However, he added "a line has been crossed" and he "cannot condone what has happened on this occasion".
Clarkson was suspended on 10 March, following what was called a "fracas" with Top Gear producer Oisin Tymon.
The row, which took place in a Yorkshire hotel, was said to have occurred because no hot food was provided following a day's filming.
An internal investigation began last week, led by Ken MacQuarrie, the director of BBC Scotland.
It found that Mr Tymon took himself to hospital after he was subject to an "unprovoked physical and verbal attack".
"During the physical attack Oisin Tymon was struck, resulting in swelling and bleeding to his lip."
It lasted "around 30 seconds and was halted by the intervention of a witness," Mr MacQuarrie noted in his report.
"The verbal abuse was sustained over a longer period" and "contained the strongest expletives and threats to sack" Mr Tymon, who believed he had lost his job.