John Biggs elected as mayor of Tower Hamlets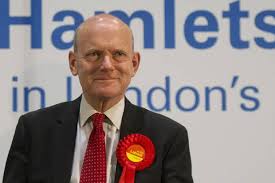 The east London borough of Tower Hamlets has a new Labour mayor just weeks after Britain's first directly elected Muslim mayor, Lutfur Rahman, was ejected from office by an election court judge. John Biggs beat the Lutfur Rahman-backed candidate, Rabina Khan, into a close second place in a campaign conducted amid intense police and media scrutiny.
It followed an investigation after which Rahman was found guilty of systematic and widespread electoral fraud and banned from office.
Biggs, the Labour candidate, received 27,255 votes in the first round compared with Khan's 25,763, winning 39% of the vote compared with 37%.
Because no candidate achieved 50%, votes from the other eight candidates were redistributed. Biggs won with 32,754 while Khan had 26,384, giving Labour a majority of 6,370.
Lutfur Rahman was found by an election court ruling in April to have committed corrupt and illegal practices during last year's election.
John Biggs, a former City analyst and London Assembly member, praised Khan's campaign in his victory speech, and said it was time for the local population to "move forward".
The count was conducted at the ExCel Centre, a venue chosen because it is outside the borough. Candidates and critics of Rahman claimed that last year's count conducted inside the borough was open to fraud and intimidation by hundreds of Lutfur Rahman's supporters.
Voters on Thursday were greeted at polling booths by police officers, printed signs warning against fraud, and cordoned-off areas as authorities tried to stop the bullying and ballot paper tampering that marred last year's election.