Jordan king warns Israel against Jerusalem 'provocation'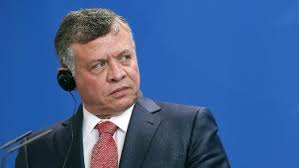 Jordan's king warned Israel on Monday that any further "provocation" in Jerusalem where Israeli police have clashed with Muslims at Al-Aqsa mosque would damage ties between the two countries.
"Any more provocation in Jerusalem will affect the relationship between Jordan and Israel" which have a 1994 peace accord, said King Abdullah II following a second day of clashes at the flashpoint holy site in annexed east Jerusalem.
"Jordan will not have a choice but to take actions, unfortunately," he told journalists in English after talks with visiting British Prime Minister David Cameron.
The kingdom, which has custodian rights over the Al-Aqsa mosque compound, on Sunday condemned what it described as an Israeli army assault on the site.
Muslims and Israeli police clashed for a second day Monday as Jews celebrated their new year and protesters vowed to protect Islam's third-holiest site.
As on Sunday, Israeli security forces entered the compound to prevent Muslim youths from harassing visiting Jews, police said.
Muslims have barricaded themselves inside Al-Aqsa amid protests over access to the site, venerated by Jews as the Temple Mount.
Israel seized east Jerusalem, taking it over from Jordanian administration, in the 1967 Middle East war and later annexed it in a move never recognized by the international community.