Kate facing BAFTA black dress 'dilemma'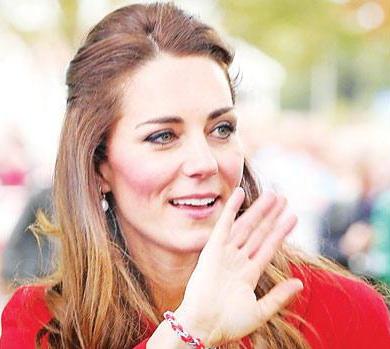 The Duchess of Cambridge could face a tricky decision at Britain's BAFTA film awards, a newspaper reported on Friday, if female attendees decide to wear black in protest at sexual harassment.
If the red carpet "blackout" at last month's Golden Globes is copied at the Feb. 18 ceremony in London, Prince William's wife Kate may have to decide whether to be seen to be joining in or standing apart.
Royal women traditionally do not wear all-black unless in mourning, and the monarchy avoids public protest.
The Daily Telegraph newspaper said Kate "will be left in a diplomatic minefield … a trickier dilemma than ever" when she accompanies William, the president of the British Academy of Film and Television Arts, to the BAFTA bash.
Kate, 36, who is expecting her third child in April, wore a black dress with white flowers at last year's ceremony.
Her Kensington Palace office declined to comment.
The Hollywood Reporter magazine said it had seen a letter addressed to BAFTA guests inviting them to wear black like "our sisters" at the Golden Globes in Los Angeles.
"We feel it is important to make a statement to show global solidarity and that the issue is not being forgotten," it said.
"Wearing black is a strong, unifying and simple statement — a physical and visual representation of our solidarity with people across all industries who have experienced sexual harassment and abuse."
At the Globes, Hollywood's A-listers turned out en masse wearing black outfits, with only the slightest hints of color.
It was a sartorial show of force to draw attention to the issue in show business and beyond, a culture of abuse revealed in the downfall of movie mogul Harvey Weinstein and others.