Kate qualifies as advanced scuba diver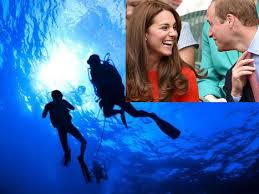 The Duchess of Cambridge, Kate Middleton, whose first official engagement after welcoming daughter Charlotte in May was in support of youth sailing clubs in Portsmouth, has earned her advanced diving certification.
According to The Telegraph, the 33-year-old has earned her advanced open water diving qualification, allowing her to dive to a depth of 98 feet. The qualification was issued by the Professional Association of Diving Instructors (PADI).
A spokesman for the Duchess said, "Diving is something the Duchess very much enjoys, and the Duke of Cambridge, who is of course President of the BSAC, has said in the past that he is hopeful his children will become interested in the sport."
Eugene Farrell, chairman of the British Sub-Aqua Club (BSAC), said, "We are thrilled that The Duchess of Cambridge shares her husband's interest in the underwater world and has further progressed her diver training.
"Last summer while diving with BSAC, The Duke of Cambridge suggested George may also one day follow in his footsteps, so we hope in the future the whole family may share the same passion for scuba diving."
According to PADI, the qualification involves two required dives: deep and underwater navigation, along with three other dives of the participant's choosing.
The skills acquired include how to plan dives to deal with the physiological effects and challenges of deeper scuba diving as well as refining compass navigation skills and improved navigation using kick-cycles, visual landmarks and time.