King Abdullah opens World Economic Forum in Jordan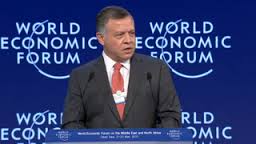 King Abdullah of Jordan on Friday said projects worth $18 billion will be built in the country over the next decade, as he formally opened the World Economic Forum on the Middle East and North Africa.
A 10-year economic blueprint for the country will be based largely on public-private partnerships, the king said at the opening of the forum at the Dead Sea Resort.
"Our 10-year economic blueprint – Jordan's 2025 – will enable us to move fast to diversify resources, to develop infrastructure, and capitalize on strengths," he told delegates.
"This plan will be delivered through public and private partnerships, and to a large extent through projects of over $18 billion to be announced today."
He thanked Saudi Arabia, Kuwait, and the UAE for their support over the years, saying that the economic prospects for Jordan are good despite the challenges it faces.
"Jordan's growth is rising again," he said.
The prime minister, Abdullah Ensour, is expected to announce details of the investment plan later on Friday.
King Abdullah said there were great opportunities across the region as a whole.
"It's a time for a new push, engaging all sectors to create inclusive growth," King Abdullah said.
Klaus Schwab, founder and executive chairman of the World Economic Forum, said violent extremism in the region would inevitably form part of the program.
"It is a challenge for all of us in politics, business and civil society," he said. "It is a cancer which – if not stamped out – is spreading globally."
Abdel Fattah El Sisi, the Egyptian president, and Palestinian political leader Mahmoud Abbas were also in attendance at the opening of the forum.
Omar Alghanim, chief executive of Alghanim Industries, said at an earlier press conference that jobs were key to the future prosperity of the region.
"We also have the largest youth unemployment in the world," he said.
He also pointed to the lack of bankruptcy laws in the region, which made people afraid to launch their own businesses.
"We have a problem across the region – we don't have bankruptcy laws in most countries," he said, adding that business people face criminal liability if they fail in business.
"We… need to go and tell our governments that that is unacceptable," he added.
The World Economic Forum, which runs until Saturday, is expected to attract about 800 business and political leaders.