King Salman a loyal friend: Erdogan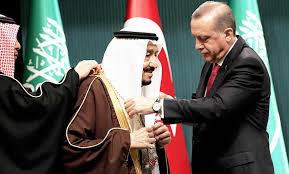 Custodian of the Two Holy Mosques King Salman was received by Turkish President Recep Tayyip Erdogan at the Presidential palace in Ankara on Tuesday in an official welcoming ceremony as the king begins a state visit to the country.
President Erdogan said that King Salman is a loyal friend and described the Saudi leadership as a wise safety valve in the region.
The Turkish president honored the king with the Order of the State of Republic of Turkey, the highest state order in the country.
The king received a 21-gun salute and was welcomed by the prime minister as well as senior officials of the Turkish republic.
It is the Saudi king's first visit to Turkey since ascending the throne early last year.
King Salman arrived in Ankara en route from Egypt, where he had paid a five-day-visit.