King Salman distributes King Khalid Awards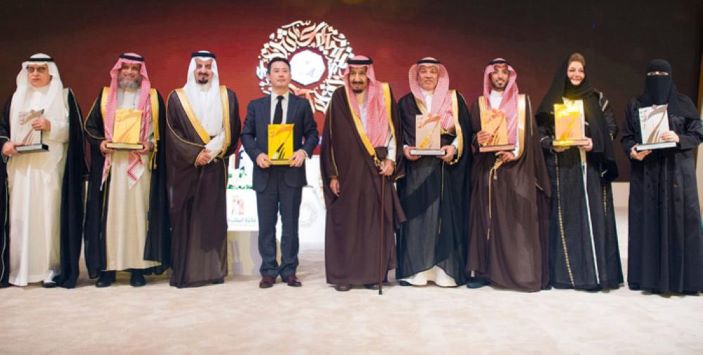 Custodian of the Two Holy Mosques King Salman graced the ceremony of distributing King Khalid Award at Prince Sultan Hall of Al-Faisaliah Hotel in Riyadh on Monday evening.
The awards were given away in three categories of "Development Partners," "Nonprofit Excellence" and "Responsible Competitiveness".
In the "Development Partners" category, King Salman presented the first prize to Saad Al Hamoudi for his "Alhasalah" initiative, which got 42 percent of the total votes received in a mass e-mail voting mechanism through the King Khalid Foundation website. The initiative, launched in 2009, is aimed to raise awareness towards money management in terms of consumption, savings and investing. The Monarch gave away the second and third prizes in this category to Shahid Al Miqbil for "Adam Campaign" initiative and Owaied Alsubaie for "My book club" initiative respectively.
In the "Nonprofit Excellence," category, the King presented first prize to Prof. Jibran Al-Qahtani of "Al-Kawther Health Charity" while the second and third prizes were presented to Dr. Khaled Al-Daql of Osrati of Madinah, and Dr. Hala Al-Shair of "The First Women's Charitable Association of Jeddah" respectively. The King also distributed prizes in the category of the "Responsible Competitiveness". The prizes in this category were given away to "Saudi Huawei Company," "The National Petrochemical Industrial Company (NATPET) and the "United Doctors Hospital."
Prince Faisal Bin Khalid, emir of Asir and chairman of King Khalid Award Committee, Prince Faisal Bin Bandar, emir of Riyadh, Prince Saud Bin Salman, Prince Rakan Bin Salman, several other princes and senior officials attended the function.