King Salman opens mega airport in Madinah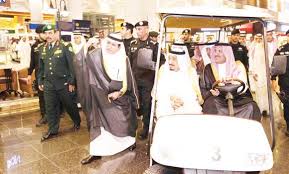 Saudi King Salman opened the new Prince Mohammed bin Abdul Aziz International Airport in Madinah on Thursday night.
He was met at the airport by Madinah Gov. Prince Faisal bin Salman and Suleiman bin Abdullah Al-Hamdan, head of the General Authority for Civil Aviation (GACA).
The king toured the facility, which has architecture reflecting the city's traditions and heritage, a local publication reported on Friday.
The king listened to a briefing presented by Al-Hamdan on the airport's sections, counters, duty-free market, restaurants and departure gates.
There was an opening ceremony held which started with a recitation from the Qur'an.
The new airport, built on an area of 4 million square meters, would in its first phase handle 8 million passengers a year, increasing the number to 18 million in the second phase, and then 40 million after the third and final phase.
GACA has been operating the airport on a trial basis since April to check systems. It is the first airport in the Kingdom constructed and operated entirely by the private sector.
The king left for Jeddah after the ceremony.
He was seen off by several princes, ministers and senior officials. On arrival at King Abdul Aziz International Airport, the king was welcomed by Makkah Gov. Prince Khaled Al-Faisal, Jeddah Gov. Prince Mishaal bin Majid, and other princes.
King Salman has meanwhile sent a message to Jordan's King Abdallah on strengthening bilateral ties, and taking coordinated action to serve the interests of Arab and Muslim nations.
Sami bin Abdullah Al-Saleh, Saudi Ambassador to Jordan, handed the message to Prince Faisal bin Al-Hussein.