Kiswa handed over to Al-Shaibi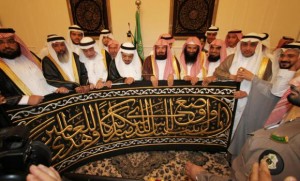 Sheikh Abdulrahman Al-Sudais, head of the Presidency of the Two Holy Mosques Affairs, on Sunday handed over the Kaaba kiswa (apparel) to Abdul Qader Al-Shaibi, custodian of the Kaaba's key. It will be put on the Holy Kaaba on the 9th of Dul Hijjah.
The Shaibi family has been the custodian of the Kaaba key for over 15 centuries. They are responsible for the maintenance of the Kaaba, including opening and closing its doors, cleaning, the annual draping and the reception of visitors inside the Kaaba.
The Kiswa, valued at SR20 million, is made of pure natural silk dyed in black. It is fourteen meters high. On the top third segment of the cloth lies the Kiswa belt measuring, ninety-five centimeters in width and forty-five meters in length. It consists of sixteen pieces and surrounds the Kaaba from all sides. The belt is embroidered with silver threads covered with gold.