Kiswa work in full swing as Haj approaches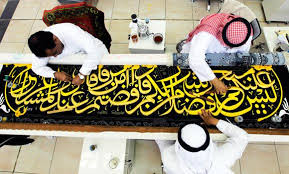 The time of the year has come for the annual tradition of sewing the Kiswa, the cover of the Kaaba. In a specialized factory, built as per orders of the late King Abdul Aziz in 1346 Hijri, 150 trained employees are involved in the work.
Mohammed bin Abdullah Bajawda, director of the Kaaba Kiswa factory, said that the process includes dyeing, electric weaving, printing, embroidery and then assembling the different parts the Kiswa.
"The Kiswa is made of pure silk that is dyed black, and it takes about 700kg of pure silk to weave the Kiswa," he explained. Different inscriptions and expressions are woven into the fabric using verses from the Holy Qur'an with gold thread.
The 14-meter-long Kiswa is embroidered with 120kg of gold and 25kg of silver threads.
Bajawda said Abdul Rahman Al-Sudais, chief of the Presidency of the Two Holy Mosques, and his deputy, Mohammad bin Nasser Al-Khuzaim, inaugurated the factory's new high-tech machines that were made specifically to speed up the manufacturing process.
The state-of-the-art embroidery machine is a Tajma-tfmx-602, which offers the latest technology, and can sew up to 1,000 stitches per minute.
"The machine produces flags and emblems according to the presidency's specifications. The machine, with its two heads, contains six colors thus reducing the time needed to complete a logo or other product," he said.
Bajawda added that factory workers make sure they take special care of the Kiswa, especially as it could be damaged or dirtied from friction and large crowds, "We have teams working around the clock to maintain and fix the Kiswa," Bajawda added.
He said the Kiswa will be handed out and draped over the Kaaba at dawn on the ninth of Dhu Hijjah.
The director added that the factory has become a known symbol of the two holy cities and is visited by thousands of pilgrims from around the world, "Many of them express their gratitude and appreciation for the development of the factory," he said, adding that many visitors see how much effort is put in to make the Kaaba look in the most remarkable shape possible.
He called upon pilgrims to protect the Kiswa and not to try to write on it or sabotage it, and most importantly to stay away from crowding so they don't tear the Kiswa.