Leaders in Asia face jail, arrests — often due to politics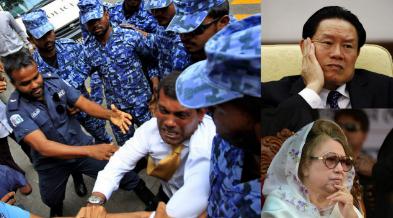 On Wednesday, a court in Bangladesh issued an arrest warrant for Khaleda Zia, the opposition leader whose political feud with Prime Minister Sheikh Hasina has dominated the country's politics for more than a decade.
It was the latest in a series of legal cases — some legitimate, some politically motivated — that have swept up powerful politicians across Asia in recent years. There's the former Thai prime minister living in exile and the jailed opposition leader in Malaysia. There's the former president of the Maldives who was arrested early this week. And there are the so-called "two ladies" of Bangladesh, both of whom have been detained behind bars on a variety of charges that, in the end, were never proved.
Sometimes, it is obvious when the charges are politically motivated.
But very often, that never becomes clear.
BANGLADESH
The arrest warrant for Khaleda Zia, a former prime minister, came after she failed to appear in court for the fourth time in two corruption cases. Zia's lawyers say she is sick and fears for her security amid political unrest that has followed a national transportation strike called by the opposition alliance she leads. The 69-year-old Zia insists the charges — tied to $1 million in donations intended for a charity named for her late husband — were trumped up as a form of political intimidation. The government denies that. It was not immediately clear when, or if, Zia would be arrested.
THAILAND
For nearly a decade, Thailand has been polarized by a political crisis that revolves around former Prime Minister Thaksin Shinawatra.
Enormously popular with the rural poor but despised by royalists and the Bangkok elite, Thaksin was toppled by a 2006 military coup. He has lived for years in self-imposed exile to avoid jail time for a subsequent corruption conviction — one of many court cases viewed as politically motivated against Thaksin and his family. His sister, Yingluck, won a landslide 2011 election victory, but was forced to resign last May on nepotism charges. Yingluck's ouster was quickly followed by another military coup that ushered army chief Gen. Prayuth Chan-ocha into the role of an unelected prime minister. Prayuth has vowed reforms to rid the country of corruption, but critics say they are designed to purge the Shinawatra family's influence from politics.
MALAYSIA
In Malaysia, former Deputy Prime Minister Anwar Ibrahim began a 5-year prison sentence on Feb. 10 after being found guilty of sodomizing a former male aide in 2008. Anwar has maintained his innocence and claims he is a victim of a political vendetta by the government. Anwar was seen as the most potent political threat to the government after he led the opposition to impressive gains in the 2008 general election and made further inroads in the 2013 elections. This is the second time he has been imprisoned on sodomy charges. The first time was after being ousted as deputy prime minister in 1998 when he ran afoul of the ruling party. He was freed in 2004 after the top court quashed that conviction.
CHINA
Former Chinese security czar Zhou Yongkang, a member of the Communist Party's all-powerful Politburo Standing Committee, was formally placed under criminal investigation in December.
No details of the evidence against him have been released. But a large number of his past associates in the oil industry, police and provincial governments have also been detained — hinting that prosecutors are looking into broad-based corruption. The once-feared Zhou would be the highest-ranking official to stand trial in China since 1981, and is the highest official ensnared in an anti-corruption sweep launched by current top leader Xi Jinping. State media have touted the case as example of the Communist Party's determination to root out wrongdoing regardless of rank, although many observers say Xi wished to take out Zhou to consolidate his own power. There are also suggestions that Zhou fell as a result of behind-the-scenes factional jockeying in the ruling party's uppermost echelon.
TAIWAN
In Taiwan, former two-term president Chen Shui-Bian was convicted in 2009 on charges of bribery and embezzlement and given a life sentence that was reduced on appeal to 20 years.
He was released Jan. 5 on medical parole after being diagnosed with neural illnesses that left him confined to a wheelchair. Chen's 2000 election ended a half-century rule by the Nationalist Party, which fled to Taiwan in 1949 following the Communist victory in the Chinese Civil War. That, along with his attempts to cement Taiwan's de facto independence from China, left many Nationalists and the descendants of those who followed the party from the mainland deeply embittered. Family scandals, as well as repeated attempts to drive him from office, created suspicions that his conviction was politically motivated. Chen, 64, remains a controversial figure within his main opposition Democratic Progressive Party, and it's unclear what role, if any, he'll play in the 2016 presidential election that is expected to be hotly contested.
MALDIVES
Mohamed Nasheed, opposition leader of the Maldives, was arrested on Sunday for ordering the arrest of a top judge three years ago when he was president. Nasheed is accused of directing the military to arrest the judge and of ignoring a Supreme Court order to release him.
Maldives former President and current opposition leader Mohamed Nasheed, in white, tussles with policemen who stopped him from speaking to journalists as he is brought to be produced before a court in Male, Maldives on Monday, Feb. 23, 2015.  –  AP
The government insists that Nasheed's arrest was not politically motivated, and that he was detained because of fears he would flee the island nation. Nasheed's party says politics is at the root of the prosecution and arrest. Nasheed became the country's first democratically elected president in 2008, ending 30 years of autocratic rule by Maumoon Abdul Gayyoom. Nasheed resigned in 2012 after weeks of protests against his order to arrest the judge. He lost the 2013 presidential election to Gayyoom's half brother, Yameen Abdul Gayyoom.