Legendary journalist Serajur Rahman is no more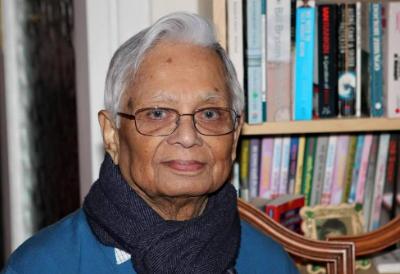 Legendary journalist and former Deputy Chief of BBC Bengali Service Serajur Rahman died at a hospital in London on Monday. He was 81.
Serajur Rahman has long been suffering from lung diseases. He breathed his last at Royal Free Hospital in London at 11am on Monday.
His wife Sophia Rahman confirmed the news of his death.
Serajur Rahman joined the BBC World Service in 1960 and retired from BBC Bengali Service in February 1994.
His full name was ANM Serajur Rahman. He was born in Noakhali in 1934.
After studying in Kolkata, Serajur Rahman's long journalistic career began by joining the Daily Azad and worked at the Daily Nabajug and the Weekly Millat. He started his broadcasting career in Calcutta whilst still at school, participating regularly on programmes of All India Radio.
In 1947, after the partition of India Rahman moved to Dhaka, East Pakistan, and was admitted to Dhaka College. He was actively involved in the Language Movement when it started in 1948. He was elected by his college to liaise with the University of Dhaka Students' Action Committee.
Serajur Rahman became a legend to the people of Bangladesh for his outstanding contributions to the BBC Bengali Redio programmes during the Bangladesh's War of Liberation in 1971.
His voice became well known to the people of Bangladesh during the liberation war.
In addition to this, Rahman helped to coordinate the liberation movement's international publicity. His active and influential role in Bangladesh's struggle for independence earned him close personal recognition from Father of the Nation, Bangabandhu Sheikh Mujibur Rahman, and the leaders of the new country.
After his retirement from the BBC in 1994, Serajur Rahman had been writing columns in different newspapers in Bangladesh.
His one son and one daughter had already died.