Listen to Friday sermon now in English and Urdu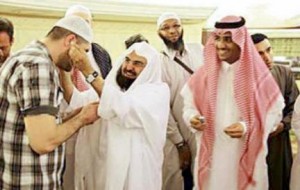 Live translation of the Friday sermons in Makkah's Grand Mosque has come as blessing for non-Arab worshippers.
The translation service, by qualified interpreters, is available in both English and Urdu. Part of the King Abdullah Project, the facility was formally launched on Friday.
Authorities have assigned a designated area in the Haram for worshippers who follow Urdu and English where headsets and compact audio devices are being provided by the Grand Mosque authorities. The device is connected to FM frequency that broadcasts the interpretation of the Arabic sermon delivered by the Imam of Haram, Abdul Hafez Al-Shubaiti.
A separate room for interpretation has been set up which is marked as sensitive, with qualified interpreters doing the job, a statement issued by the Presidency of the Two Holy Mosques Affairs said.
King Fahd Gate area is the designated area for the translation service and headsets to worshippers will be provided only in this area.
It is not known whether mobiles that are equipped with FM frequency reception can also benefit from the service.
Shaikh Abdul Rahman Al-Sudais, president of the Two Holy Mosques Affairs, is keen on translating the Friday sermons and other information from Arabic into foreign languages for the benefit of non-Arab worshippers. Al-Sudais mooted the idea to Custodian of the Two Holy Mosques King Abdullah, who has approved it, the statement said.
A similar translation facility will be launched in the Prophet Mosque in Madinah. The authorities recently introduced Urdu translation facilities for Islamic guidance and counseling section of the Grand Mosque in Makkah for the increasing number of Umrah pilgrims.
The translation facility is available only on Junoob Almakbariya in the south side of the Haram near the King Fahd gate and gate number 94.