London Mosque Feeds Needy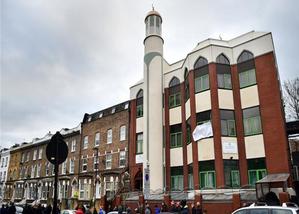 Giving back to the community, a London mosque offers hot meals and psychological support once a week for the city's needy, reflecting one of the tenets of Islam of charity.
The project "is part of several inter-religious initiatives that aim to serve the communities around," Mohammad Ali, the deputy director of the Mosque, told Al Jazeera on Saturday, August 8.
Located in London Borough of Islington, Finsbury Park Mosque opens its doors for London's homeless once a week to show the true face of Islam.
Social workers at the mosque welcome dozens of needy people who come to share worries and hopes.
According to Ishiya, a volunteer at the mosque, the homeless are finding the social security they lack on the streets.
The mosque hopes to provide better meals with more regularity, Ishiya added.
The mosque hosts a number of activities that target both Muslims and non-Muslims, "Muslims should have a role in social integration," Ali explained.
The mosque, which has become a focal point in the community for interfaith and peaceful worship over the past 10 years, was often overshadowed by its old links with extremist preacher Abu Hamza, who was sentenced to life in US prison.
The mosque is now the only one in the country to have received the charity commission-endorsed Visible Quality Award for its work in the community.
Last month, prominent British Muslim scholar has urged the UK authorities to remove Finsbury Park mosque from a confidential terrorism blacklist used by UK high street banks.
The mosque was branded as a "terrorism risk" on the confidential database used by 49 out of the world's biggest 50 banks.
Shortly after HSBC's decision to close mosque accounts, the Finsbury Park mosque has received some 15 emails and letters which included hand drawn images depicting the Prophet Muhammad as a devil worshipper.
Following Paris attack earlier this year, the mosque came under a barrage of hate mails, death threats and offensive cartoons.
Britain is home to a sizable Muslim minority of nearly 2.7 million.
In 2011, think tank Demo found that Muslims in the United Kingdom are more patriotic than the rest of population.
Responding to the statement "I am proud to be a British citizen", 83% of Muslims said they are proud of being British.
Reflecting a deep-rooted relationship, a synagogue in the northern British city of Bradford has appointed, this month, its first Muslim member, in a decision passed unanimously by its ruling body.