London show hosts the first Saudi woman specializing in Islamic designs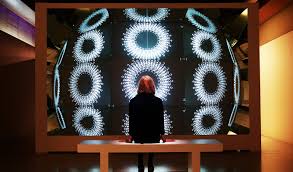 Artist Lulwa Al-Homoud is the first Saudi woman to have her work displayed in front of a British audience, at the London Design Biennale, which runs at Somerset House in London from Sept. 4 to 23.
The exhibition showcases the work of leading designers and innovators from 40 countries, focusing this year on how design influences our emotions and experiences.
Lulwa's sculptures incorporate the beautiful calligraphy techniques of Arabic alphabets to create complex geometric patterns as a means of conveying positive emotional feelings. Ali Al-Mutairi, director of Ithra (the King Abdulaziz Center for World Culture in Dhahran), said: "We are delighted at Ithra to support Lulwa Al-Homoud in this unique cultural event. Our goal is to develop and deliver innovative artistic and knowledge products in a way that respects diversity and promotes different concepts in science and arts."
He added: "We are also proud that one of Lulwa's works is displayed at the Contemporary Arts Hall at the Ithra Museum in Dhahran, stressing that this initiative achieves the center's mission in spreading knowledge and supporting creativity and cultural communication with the world, through Saudi elites and national talents in international forums."
Al-Homoud's participation at the London event sponsored by Ithra, which is an initiative by Saudi Aramco aims to promote local culture, innovation and talents.
During a conversation with the audience, Al-Homoud said: "My presence at the London Design Biennale is a great responsibility but is also a source of pride for me, because I am able to represent part of the Saudi creativity in a world-class event that highlights countries more than individuals. We, as artists, are the product of the cultures of our countries, and Ithra's support adds to my responsibility, pride and gratitude to my homeland.
"Arabic calligraphy is at the top of the pyramid of Islamic arts. It started to develop the Qur'anic text, and calligraphers did their best to try to make it as beautiful as possible, in order to match the beauty of the text. The language can spread feelings of love and anger, sadness and peace. This design is a trial to gather the public around one opinion in an abstract way."
The work "Existence and Being" manifests the relation between languages and our emotional state; it explores how languages influence us through the messages we try to convey. She also developed an abstract form of the Arabic language, molding it in geometrical patterns, creating a complex and symmetrical alignment of symbols and lines.
It is worth mentioning that Al-Homoud graduated in sociology in Riyadh and then went on to continue her master's degree at Central St. Martins in London. She became the first Saudi woman to specialize in Arabic calligraphy and Islamic designs. Her participation in the London Biennale was the result of her research in Arabic calligraphy and Islamic designs.
Her work has been exhibited in international museums such as the Los Angeles County Museum of Art, the Jeju National Museum in South Korea, the Five Continents Museum in Munich and the Amsterdam Green Box Museum. She designed several logos, including the Saudi pavilion logo at Shanghai Expo 2010 and the 18 Arabic calligraphy wall panels inside the Saudi Pavilion.